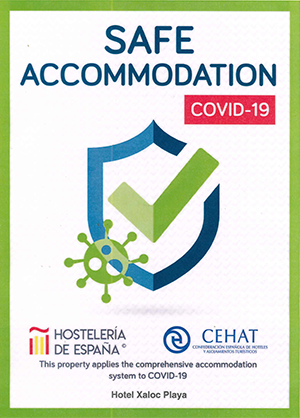 Hotel Xaloc Playa
Extra health & safety measures
For HOTEL XALOC PLAYA the safety of all our customers and staff is our top priority. For this reason, we have deployed a strict anti-Covid protocol19.
✓ Please note that the use of masks is mandatory in the hotel's public areas.
✓ The temperature is taken at customer and staff entrances. In the event of a fever, for the safety of all, guests will not be allowed to stay at the property.
✓ Room keys are disinfected
✓ The number of cleanings in the common areas has increased.
✓ Please note that cleaning of rooms with guests inside is not allowed.
✓ The surfaces of the rooms are cleaned with specific disinfectants.
✓ The room ventilation is maximized.
✓ Breakfast and dinner buffet is assisted.
✓ All guests are provided with disinfectant gel in the common areas.
✓ Methacrylate partitions have been installed in the reception and the restaurant.
✓ We have implemented a protocol for the use of the sun loungers.
✓ All customers and staff are required to respect the minimum safety distance, marked at 1.5 meters.
All these sanitary measures and recommendations are applied to ensure a pleasant and safe stay. We are convinced that our service will live up to your expectations. We are waiting for you.